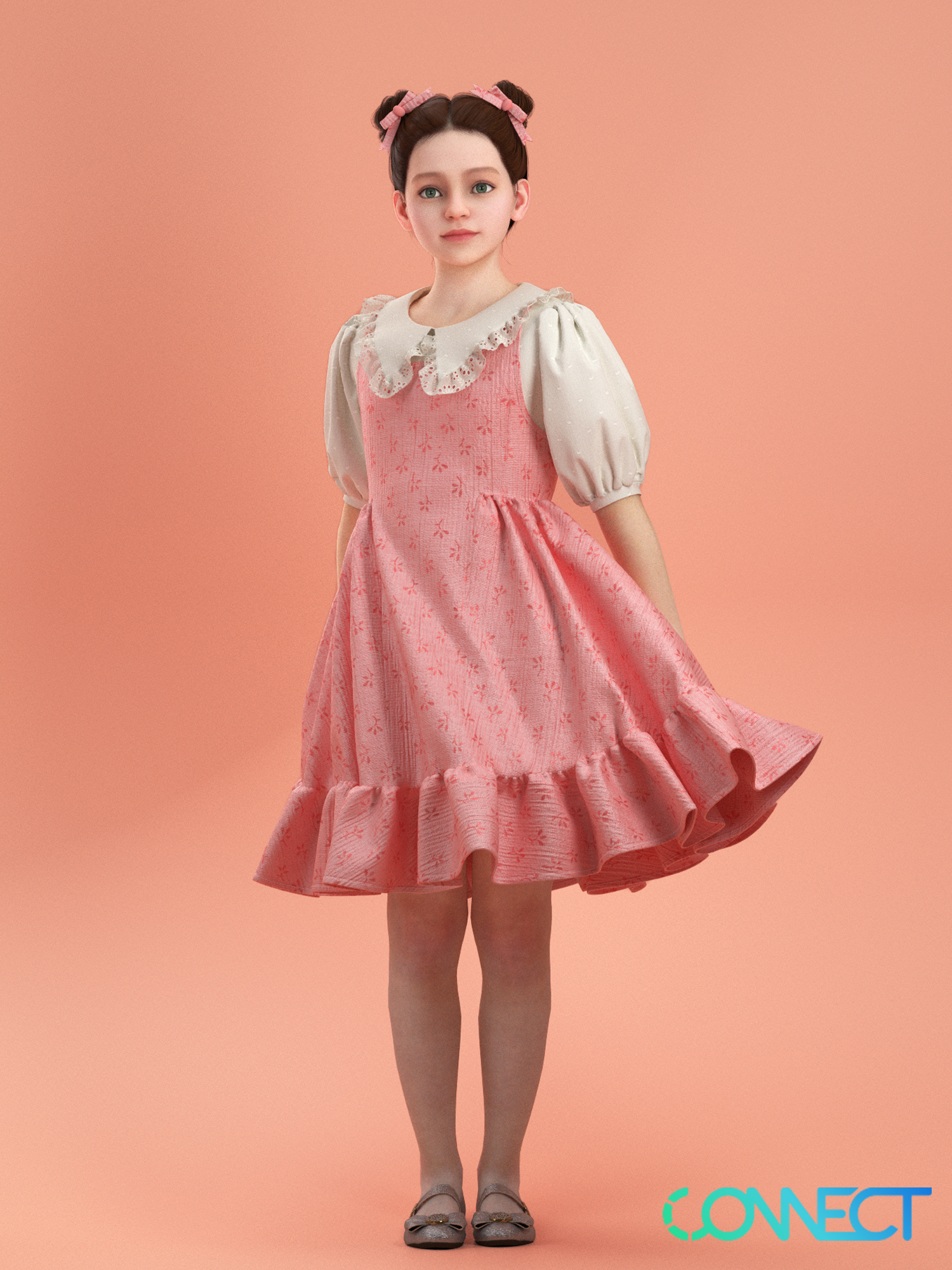 [AVATAR SIZE]
- HEIGHT : 134.5 cm
- BUST CIRCUMFERENCE : 70 cm
- WAIST CIRCUMFERENCE : 61 cm
- HIP CIRCUMFERENCE: 72.5 cm

[INFO]
Age - 8
Joint - O
Size Editor - O
Asset compatibility- O
UV unwrapping - O
Symmetry - O

All CONNECT Items are compatible with CLO, Marvelous Designer.

*** If the avatar is running on CLO 7.1.274 or earlier, it is normal that you cannot resize the avatar using the 'Avatar Editor' and apply assets from the previous versions.
*** When pressing the 'reset' button in the Avatar Editor, the size of Melody may change differently from her previous size.
For this reason, we strongly recommend that you download the attached size preset file for this avatar and use it.
*** Please use 3D assets that are appropriate for the age of the avatar.

[NOTE]
Avatar [Melody] and its interfaces, graphics, design, information, artwork, data, code, software, and all other elements, including the rights therein and any derivatives thereof ("CLO Avatar"), are exclusively owned by CLO Virtual Fashion ("CLO") and protected by applicable laws and international treaty provisions.
You may not distribute, sell, monetize, publish, post, or otherwise disseminate any contents containing CLO Avatar (A) onto any e-commerce website or online marketplace except CLO-SET CONNECT or (B) as part of any advertising, marketing, or promotional media (collectively, "Disseminate"), unless proper attribution is given to CLO in each instance in which CLO Avatar is so Disseminated, pursuant to the specifications CLO provided.
We recommend you to give attribution with hashtags below:
#Connectofficial #AvatarbyCLO
For the avoidance of doubt, you shall not download CLO Avatar and sell or distribute those CLO Avatar itself through any means.
Show More
File Information
KV1G_Melody_(7-20).avt (32.2MB)
Attachment
KV1G_Melody_(7-20)_Size_Preset(3).avs (665.0B)